Reading and Writing Ogba.
Ogba has two main dialects Egni and Igburu, close to each other to an intelligibility level of over 82%. Either dialects can be mutually accessible and acceptable as a means of communication.
The Reading and Writing Ogba Spelling and Survey Guide is meant to serve as a bridge for those who are literate in languages other than Ogba to use their literacy skills in learning how Ogba grammar functions. It is a teach yourself handbook.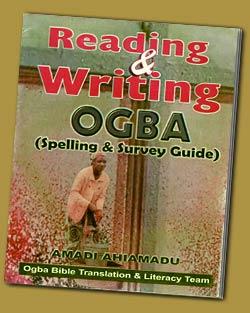 The Ogba People Group
*Information from The Joshua Project
People Name
Ogba
Primary Language
Ogba
Primary Religion
Christianity
Country
Nigeria
Population
251,000
Population Year
1992
Bible Translations
OBTLT New Testament
Jesus Film
Not Available
Gospel Recordings
Available
Radio Broadcast
Not Available
Language Map

View the Language Map in Google