The Bread of Life in Ogba.
The Ogba are desperately in need of your encouragement as the battle for resource control rages in the Niger Delta. You can help them feed upon the Living Bread. Your prayers and partnership are what it will take to bring God's Word to over 3 million people.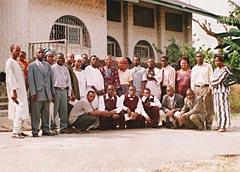 The Ogba Bible Translation and Literacy Team
Bringing the written Word to the Ogba of Nigeria
---
Reader & Teacher Training Programme.
It is the deep desire of every Ogba son and daughter to read God's Word in community with others. For this to be possible OBTLT is engaged in a reader and teacher training programme. You can be a part of this through prayer and partnership as well.
The Ogba say that what is not learnt may lead to regrets and even tears later. Hence it is better to learn than to pine away in tears.
Children's Books.
Everyone is involved in this literacy project. Even the little ones are eager to have access to books in their mother tongue that are easy to read. Publishing children's books based on stories from the New Testament may prove of great encouragement.
Local Church Involvement.
The established Church is the backbone of the local, national and international programmes of OBTLT. If you belong to a Church your prayer and partnership will count more because of it's multiple effect.
Those who have friends must always show friendly attitudes towards others, particularly those of like minds. One way the Ogba achieve their goals is through building partnerships and relationships across cultures and races.
The Ogba People Group
*Information from The Joshua Project
People Name
Ogba
Primary Language
Ogba
Primary Religion
Christianity
Country
Nigeria
Population
251,000
Population Year
1992
Bible Translations
OBTLT New Testament
Jesus Film
Not Available
Gospel Recordings
Available
Radio Broadcast
Not Available
Language Map

View the Language Map in Google